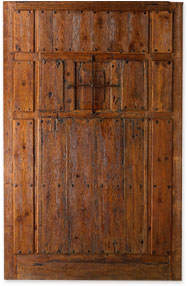 Portera Antique Spanish Doors
Portera invites you to discover the largest collection of antique Spanish doors the world has to offer. Each antique door has been hand restored by old-world Spanish craftsmen, carefully preserving its architectural integrity. A time-honored tradition practiced by few. Every door, a piece of history.
The Door of 1,000 Stars - a 16th-Century Mudéjar portal studded with étoile nails. A 15th-Century Andalusian convent door that endured the Spanish Inquisition.
An 18th-Century arched portal from a village on the route of the Santiago de Compostela pilgrimage.
Each door has a story. Let us help you find the door that complements your design.
Portera Houses their Expanding Collection in New Space
We are proud to announce, our antique collection has outgrown our showroom space. Our collection of over 200 original antique doors is now secured in a nearby warehouse. To make an appointment, please email us at info@porteradoors.com
Worldwide client services
Portera works with clients internationally. Our design teams work with you to identify a selection of doors that compliment your project. To facilitate the selection process, we provide a high-resolution portfolio of images sent via email. Once selected, Portera can help facilitate your shipping needs.